If You Were Injured on the Job
Pursue fair compensation
With the Help of Skilled Legal Counsel
Workers' compensation attorneys in scranton, pennsylvania
At Hall Poplawsky we're passionate about serving those who have suffered injuries at their places of work. Since 1986, we've been helping health care providers and injured workers seek proper financial compensation. We proudly represent individuals in Scranton and throughout Northeast Pennsylvania. If you live in Dunmore, Allentown, Wilkes-Barre, or Williamsport, contact Hall Poplawsky today.
William J. Hall
Attorney at Law
Certified Workers' Compensation Specialist
Former Workers' Compensation Judge
I grew up watching my father, a machinist and union steward, deal with issues commonly faced by the working person. As I got older, I realized I could help people like my dad. Over the course of my career, I've worked as both a workers' compensation judge and an attorney. I'll use my years of experience to investigate your case and help you pursue the compensation you deserve.
MORE ABOUT BILL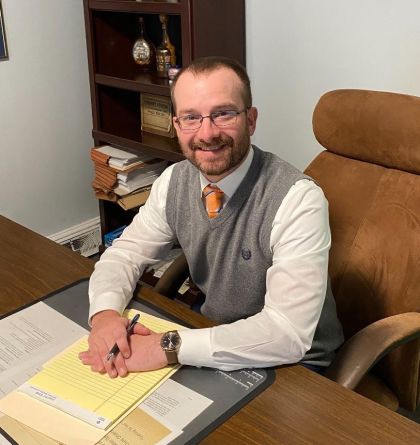 Jeffrey Poplawsky
Attorney at Law
Since earning my Juris Doctor from Western Michigan University's Cooley Law School, I have been representing injured employees throughout Pennsylvania. If you've suffered due to the negligence of your employer, allow me to help you seek a favorable outcome. I'll provide you with honest guidance as we navigate the legal system together. Contact me for legal counsel in the Scranton, Pennsylvania, area.
MORE ABOUT JEFF
What Sets Us Apart from the Rest?
Well-Rounded Experience
Our founding attorney has worked with both injured employees and their employers. With us, you'll have a legal partner who knows how the other side thinks and can anticipate potential obstacles.
At Hall Poplawsky, we've worked in multiple aspects of the legal process, from mediation to settlements to litigation. We'll listen to your story and work with you to determine the option that best suits your needs.
Pioneering Industry Knowledge
We've been integral in developing Pennsylvania's workers' compensation industry. Our founder helped co-author the pilot mediation plan that later became the state mediation program.
We also contributed to the design litigation system that helped expedite litigation in the state. As your dedicated attorneys, we'll use our wealth of knowledge to help you carefully craft a course of action.
The Legal Guidance You Need to Move Forward
It can be intimidating to file a legal claim against your employer. However, if their negligence is responsible for your injury, you deserve a fair resolution. You don't have to fight your battle alone. A team of dedicated workers' compensation attorneys can help you determine whether you're entitled to financial compensation.
At Hall Poplawsky, we work with health care providers and other employees who have been injured at their places of work. We use our combined experiences and wealth of information to craft compelling legal strategies. If you're ready to take the next step in your Scranton, Pennsylvania, workers' compensation case, contact our office today.
When you've been hurt on the job, your physical injury is the first of many problems you may run into. You may require costly medical care or lose income due to time away from work. A worker's compensation attorney can help you seek compensation for these issues. Don't wait another moment to start pursuing the outcome you deserve.
We've been serving the needs of injured employees in Pennsylvania since 1986. Our knowledge of the area is second to none. We'll be by your side throughout the legal process, answering any questions you may have. If you live in Scranton, Dunmore, Allentown, Wilkes-Barre, or Williamsport, contact Hall Poplawsky today to request a free consultation.